Most of us are able to use all of our five senses without even thinking about it. When one of them looses its strength, or capability, can it still be triggered, with a little help of the four others, of our memory, and of a designer-maker and her creativity?

Hannie learned knitting and sewing from her mother when she was a little kid. She went to school, traveled quite a lot, then settled in London where she worked a corporate job for a decade, and probably knitted now and then when she found time. The opportunity to move to Sweden showed up. She quit her London job, moved, felt in the right place, found space, had more time, knitted still, and had at last the possibility to take on weaving (newly-experienced Swedish space allows room for looms!). She then opened her shop "Hannie's Hantverk" (Hannie's handcraft in Swedish) in 2015.
After settling down in Sweden, she purchased a Glimåkra floor loom, a spinning wheel, and taught herself dying, spinning, weaving while knitting all the more. She has always been experiencing with color, texture, and material. She imagines and creates practical as well as experimental knitted or woven pieces. Practical because she designs rugs, pillow covers, and scarves (which definitely come handy in winter), and experimental since they all carry a particular approach and sense of contrast. Her color combinations are very often contrasted duets, involving a neutral base, and a vibrant, luminous counterpart. Some of her wall-pieces mix the softness and warmth of wool with the cold and rigidity of copper wire. She also textures her work with plain weaving (or knitting) and straight edges, intertwined with twists, bumps, ridges, fringes, swells… all involving quite some experimentation with various techniques and (sometimes surprising) tools to get the unusual final result. All her works are handmade from end to end, and the process takes up to two weeks of work per square meter for a rug.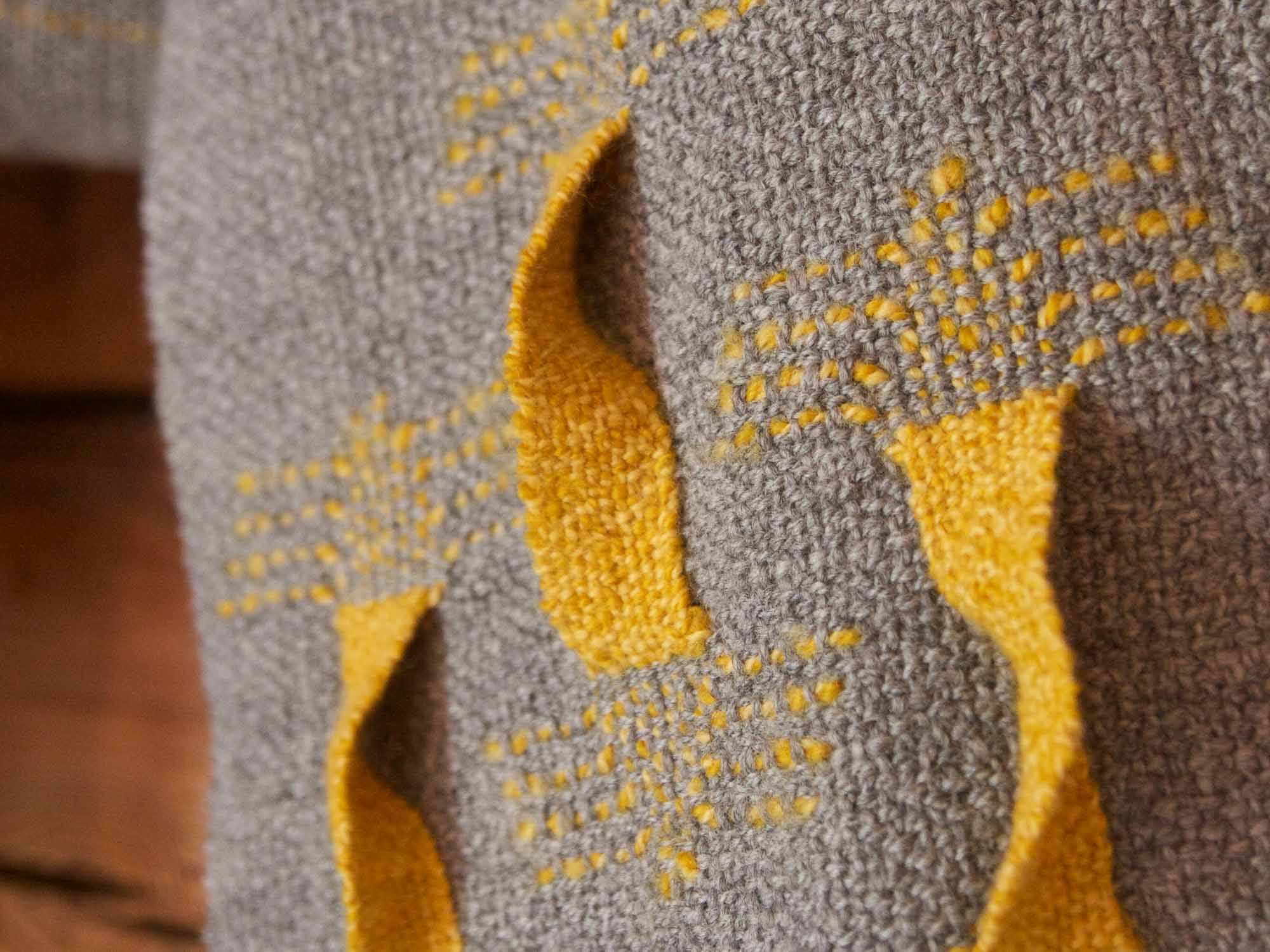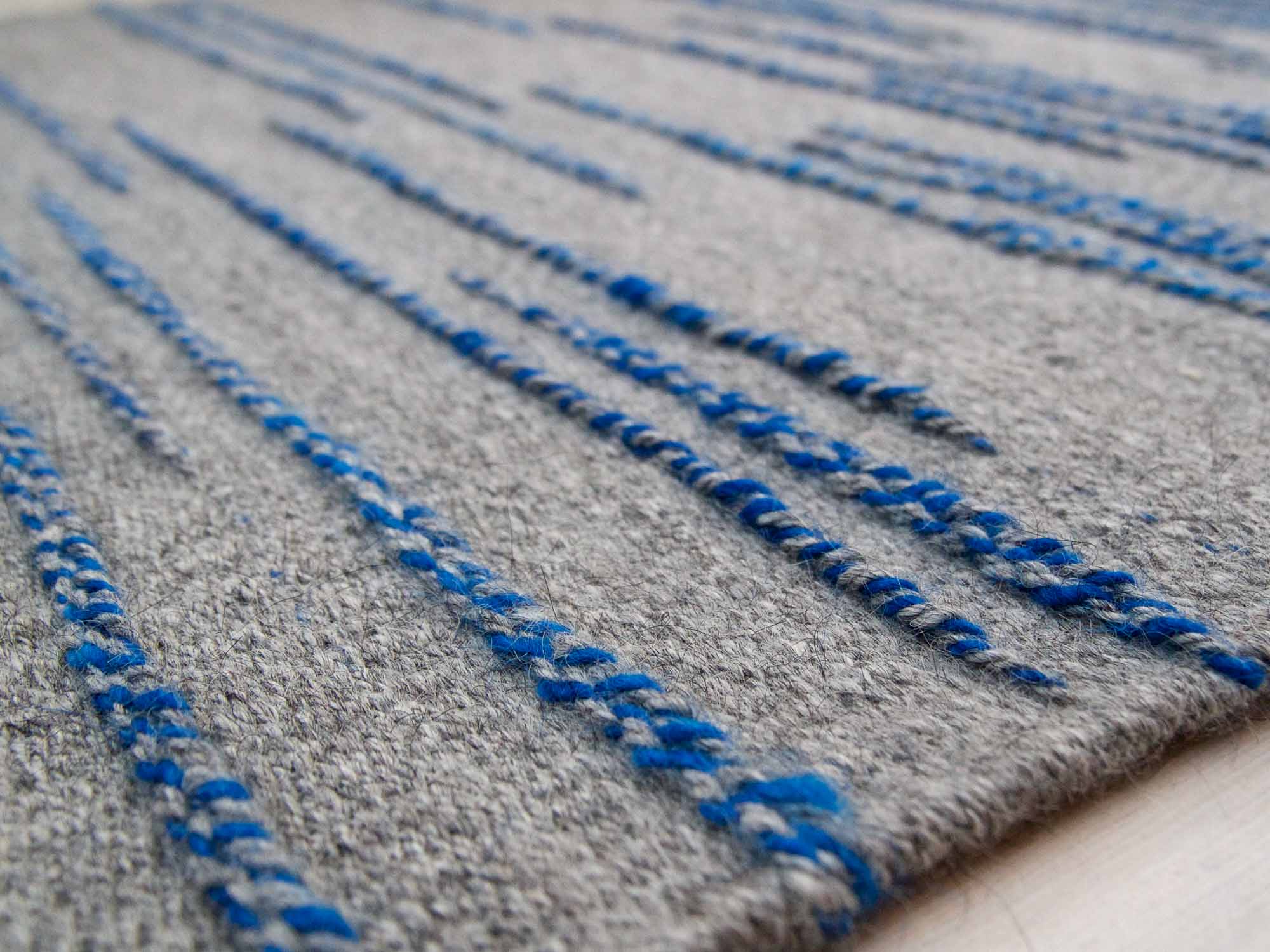 In 2017, Hannie was invited to participate in an group exhibition organized by Region Gävleborg (Gävleborg County) and to be on display at the Silvanum art centre in Gävle (the county capital) from 20 January through to 4 March 2018. The purpose of the show was to highlight wool as a material with multiple technical, practical and aesthetic properties, with a particular emphasis on Swedish wool. Producing, crafting, knitting, weaving wool is part of Sweden's cultural tradition and heritage, unfortunately national yarns are discarded (probably because of the lower cost of imported wool). In result, out of the 1800 tons of wool sheared each year, 300 are actually used, the rest being destroyed. Given the context and purpose of the event, her own experiments and part of her personal story, Hannie imagined a very particular cushion to demonstrate "wool's wonderful properties".
As said, with her wool, apart form her useful accessories, Hannie creates texture. Contrast. Can trigger our senses. Her aesthetics tickle our urge to touch her productions. One can enjoy the color scheme while feeling the softness or roughness (its is all so personal, right?) of the material, and the beautiful planned irregularities. That's one part of the thinking. Senses matter.
In fact, Hannie's sense of smell doesn't work. But it used to. Her mind stored so many fragrances when she could sense them, that when a visual stimulus occurs (like an orange for instance), she can remember and imagine the actual smell of the trigger (and feel the tangy smell of a citrus). That ability to recall a smell from her sight made her curious about sparking a visual image from a textured stimulus.
Hence, she went back on knitting. Knitting a cozy cushion, with a neutral color base, contrasting colored accents, and bumps. Braille colored bumps. Each color spells its name in Swedish Braille. Hannie thought that perhaps, someone who used to see colors but no longer can, could however "feel" them, and see them in their minds, when reading their names in Braille on a design. Like she does with odors. And that would highlight the wonderful qualities of wool indeed, wouldn't it?
In order to make the "Feel the color" cushion effective, Hannie tried various techniques. She needed the color stitches to be bumpy enough so they stand out from the background material, and can be read (or seen…). It turns out a toothpick always come in handy, and Hannie used about 250 to get the bumps right after soaking the fabric.  She then let the piece rest until it was ready to be sewn as a cushion cover, and sent off to the show, where it could unveil a quite unsuspected and very poetic wonderful property of wool. And perhaps inspire new possibilities.
Hannie imagined this piece without having any idea it will work the way she is hoping for. She had no one next to her who could read her experiment. Which makes the whole project even more poetic and selfless, I think. Other pieces will follow, stating different shades, or color themes, in Braille alphabet.
The idea of making design and aesthetics readable is absolutely new, and breathtakingly smart and beautiful to me. Hannie stands in between daily use objects and art, between an experimental and a practical approach. She rejoices in making her pieces from end to end. From choosing the raw material to washing, dying, preparing for spinning, designing the pieces all the way to shipping. With a strong will for he production to be hand- and heart-made, and to serve a purpose, be it beautifying a room or giving the opportunity to see colors when one can't. And hopefully someone will one day let her know if he or she could "see with their fingers", a beautiful expression used to describe Marie Ingall's sewing capabilities after she went blind in Laura Ingalls-Wilder's Little House books series, which I think is a perfect quote to accompany Hannie's "Feel the color" cushion.
Last but not least, thank you Hannie for sharing details, for your time, and for the beautiful pictures, it was a pleasure to learn and write about your work!
To follow Hannie's daily work, check her instagram @hannieshantverk or her facebook page and if you want a piece of it, visit her Etsy shop.